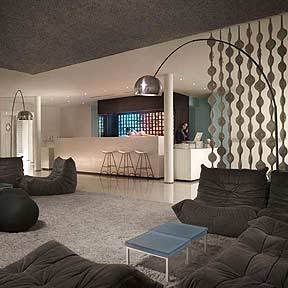 Image Source: Quikbook.com
Note: This is also posted with my reviews over on Yelp.com
If your tastes veer toward the superficial and ridiculous, by all means consider
The Standard
.
Before I go on, for context I should clarify that I am decidedly not hip, was staying at this hotel for work-related purposes rather than leisure and it was not my choice to stay here.
Also, the roughly 27 hours I spent here broke down as follows:
- 15hrs were in a windowless meeting room working on a PowerPoint presentation with 13 colleagues
- 2hrs were spent in the lobby on the worn, brown, low-slung hipster furniture waiting for my room to be ready b/c check in is at 4pm
- 1hr was in the blue astroturf pool area trying to work while an assortment of C & D county wannabe transplants and apparent members of
Borat's
extended family tree posed in various states of affected nonchalance/insouciance
- 7hrs sleeping in a room with crap climate control settings [a/c control box is labeled 'Blow', with a dial range from 'Hard' to 'Harder' .... hee hee, saucy innuendo that makes me feel dirty, yet it's a cool kind of dirty ... even cooler, the knob was broken so I had to adjust how 'Hard' I wanted it with a room service butter knife]
- 1.75hrs trying to work in that room with my laptop sitting on 4 pillows that I set on top of the 8-inches-off-the-floor coffee table b/c my room had no desk [somewhat of a handicap if you're here on business]
- 0.25hrs showering and shaving in a small bathroom with orange tiles and formica that give off a Fischer-Price / 1970s Howard Johnson's vibe - hip, man, hip
So, my experience here was probably not typical.
Other than that, I'd say you should know the following about staying here:
Rooms
Good size room, nice size flat screen TV, and room 160 has a small balcony that can look directly into an adjacent room if their curtains are open. My room wasn't affected by the noise coming out of the bar/club as some of my coworkers' were, nor did it smell of mothballs or an 'old folks home' as some apparently did, so I guess I got lucky there, too.
Room Service / Food
Mixed results. Dinner took longer than they said it would and the food [Thai beef salad or something and their interpretation of a caprese salad] was only okay. Breakfast was on time and the things that were supposed to be hot were hot and the things that were supposed to be cold were cold.
Cost
It ain't cheap. Room was $300 + tax and food is pricey.
Your Fellow Guests
Someone in our group reported that one of his neighbors was being spoken to around 10am by hotel management and security while there was audible porn on the TV and what appeared to be a 'working girl' in his room. Bad news here is you could end up next to someone such as this, but I suppose the good news is there are at least a few people staying here who find such activity at least a bit out of bounds.
Net, if you are on a business trip, have short money and/or are not into ostentatiously displaying your fabulousness, the Standard may not be for you. Otherwise, it's a terrific choice.